The Puerto Vallarta/Riviera Nayarit region recorded a gross sales volume of $141 million in the first quarter of 2023. Although this figure is slightly higher than the fourth quarter of 2022, it remains more than 30% lower than the record high achieved in the second quarter of last year, which saw $205 million in sales. It is important to note that the surge in sales during that period was likely due to pent-up demand resulting from buyer caution during the COVID-19 pandemic. Despite the lower volume in the first quarter of this year, it still surpasses pre-COVID levels, as depicted in the chart below.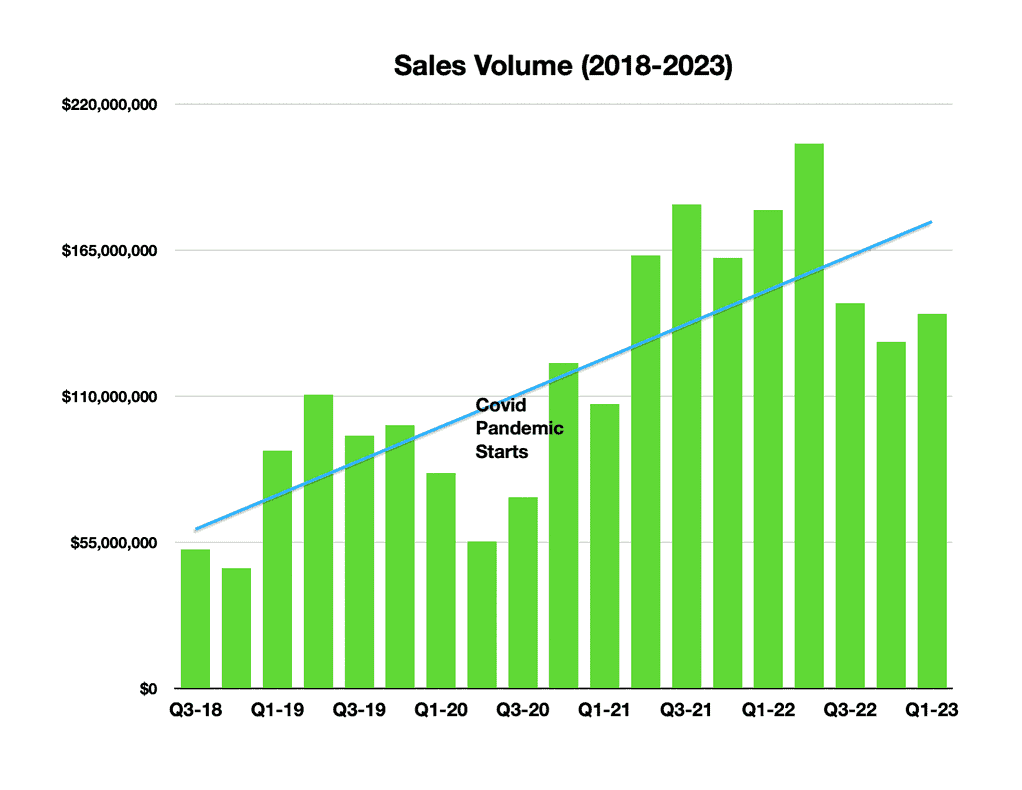 The Vallarta/Nayarit region continues to grapple with a shortage of available properties. However, as developers continue to construct new properties, the market is expected to achieve a more balanced inventory, with additional options for buyers to choose from.
The average price of a two-bedroom condominium in the region continues to rise, as indicated in the chart below. This represents an increase of nearly 20% compared to the average price in 2022 and a substantial 66% increase since 2017.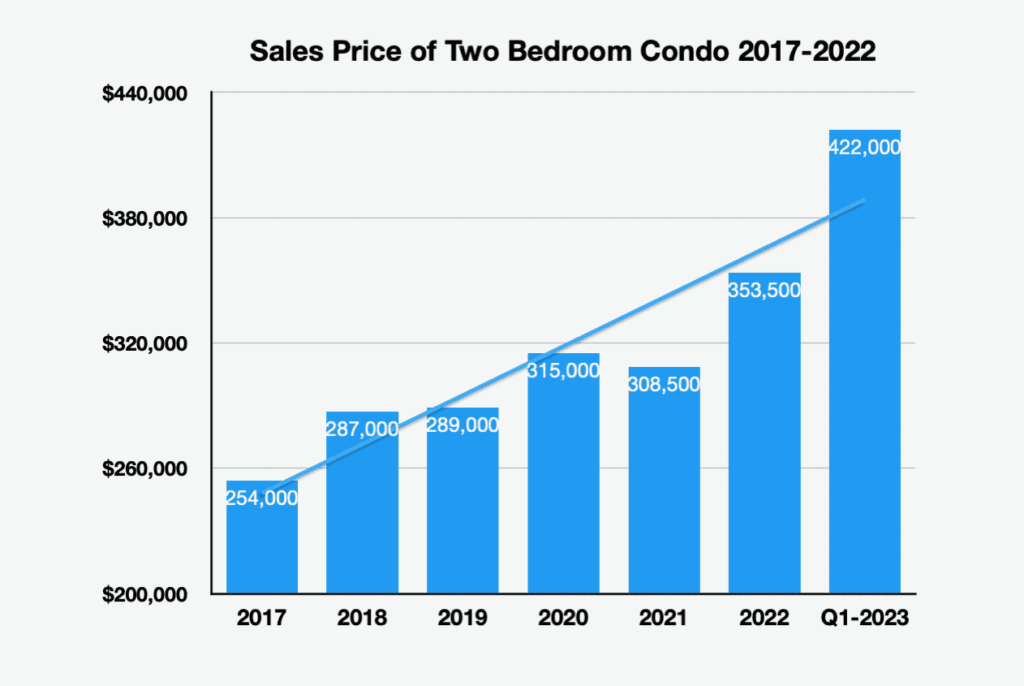 Regarding sales activity in specific areas, Nuevo Vallarta/Flamingos led the way with 19% of all sales, followed by Bucerias, which accounted for a surprising 17% of sales (typically around 10%). Conversely, the downtown region, Centro South, experienced a decline, dropping from a peak of 23% of all sales in 2017 to just 11% in the first quarter of this year. Several factors contribute to this shift. Firstly, approximately a decade ago, the downtown area, particularly Central South, was the first to recover from the 2008 real estate crash. Developers capitalized on the opportunity to build affordable condominiums away from the beach but within the town center, offering popular amenities like rooftop pools and panoramic views. This played a crucial role in the market's recovery. Secondly, during a downturn or a recovering market, people tend to seek properties close to the downtown core, leading to increased demand and subsequent price hikes (for instance, the average sales price in Central South downtown was $452,000 last year, compared to $252,000 in Francisco Villa). As the market improves and prices rise, prospective buyers tend to explore areas outside of Vallarta, such as Nayarit, and particularly the region referred to as Francisco Villa, encompassing neighborhoods like Versalles, Fluvial, and Las Gaviotas. This trend is evident in the following graphs: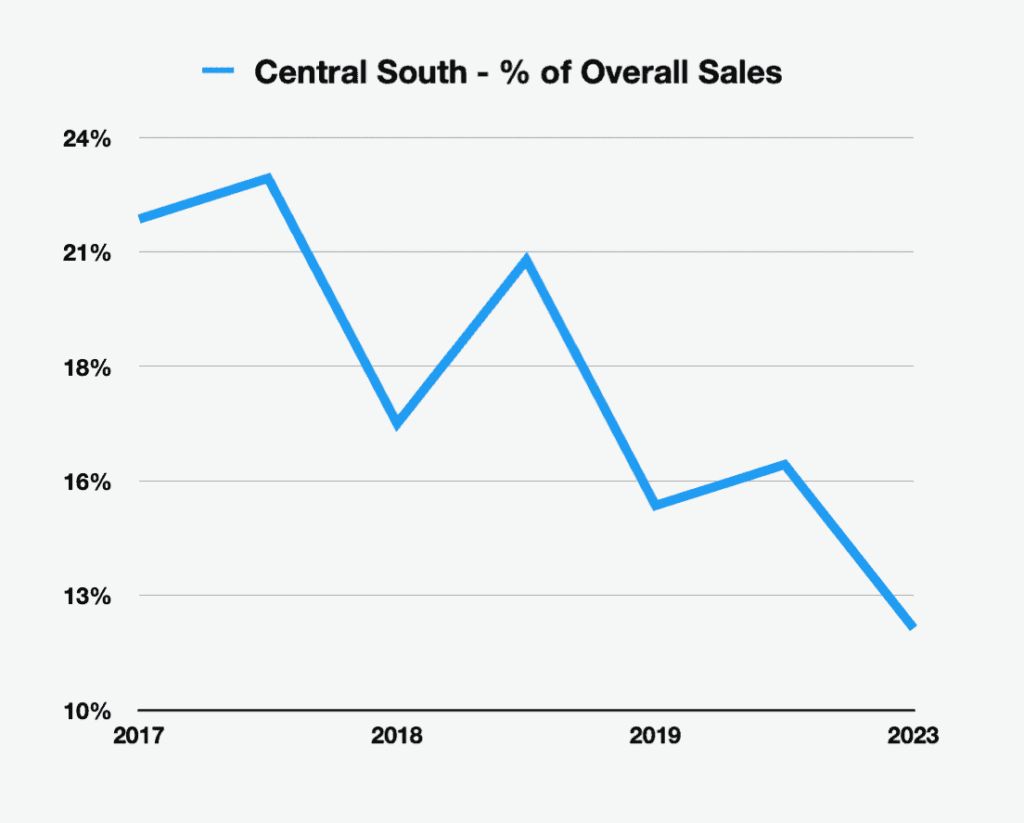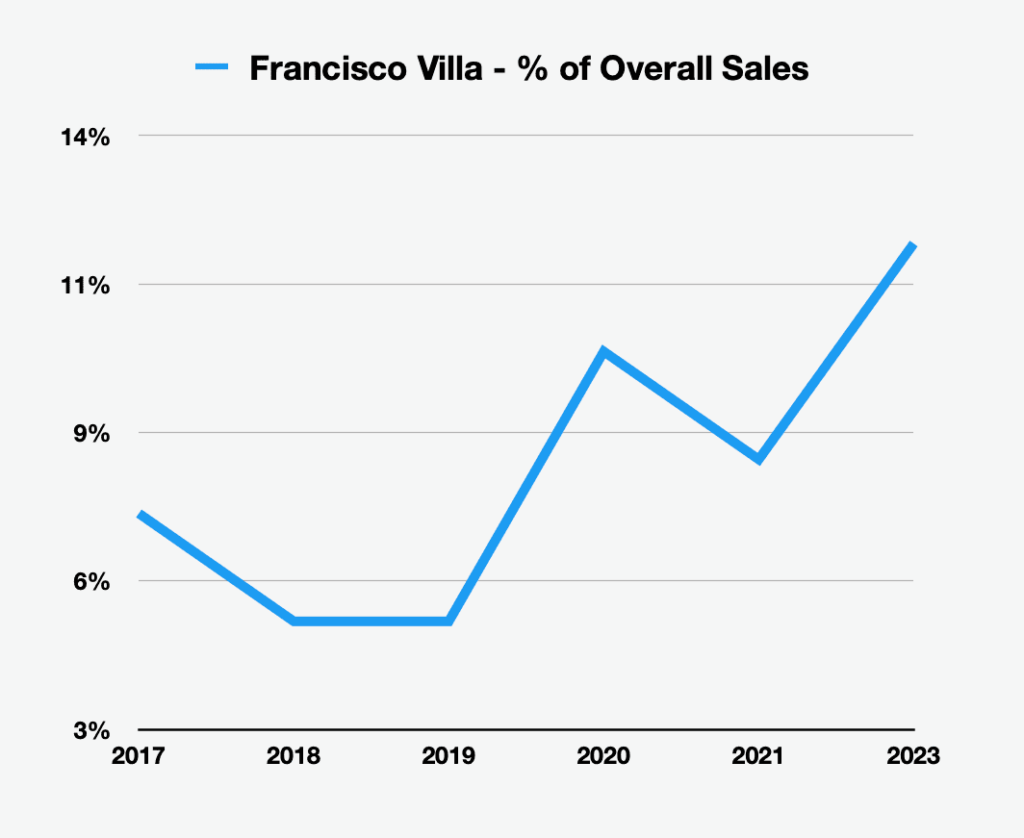 The decline in overall sales volume can be attributed more to supply constraints than to a lack of demand. There is an insufficient number of high-quality properties available to meet the needs of potential buyers. Consequently, it is reasonable to expect prices to continue increasing until the demand can be adequately satisfied.